Flexibility in the operations is the key for the companies as the COVID-19 pandemic continues to change how companies will do business in the coming years. Companies are placing greater emphasis on skilled technology professionals to support critical operations and tactical initiatives now.
Jobs with the keyword "DevOps" in their title are sprouting everywhere. DevOps skills are more in demand than even cloud and data science skills in recent times. Acc to a survey, DevOps is one of the highest-paid skills in IT. DevOps practitioners are offered handsome salary packages.
Future with DevOps
DevOps practices are a cultural shift for an organization. It requires a changed attitude about how people work together and mainly encourages communication, collaboration, and teamwork. DevOps Classes in Pune provides you in-depth knowledge of various major and minor DevOps tools that helps one in becoming a certified practitioner.
In the next 10 years of DevOps, the success will be achieved with the combination of automation, analytics, and workflow platforms. According to Statista, there has been a 17% increase in 2018 in comparison to only 10% in 2017 in the companies adopting DevOps, and this trend is not slowing down in the coming years.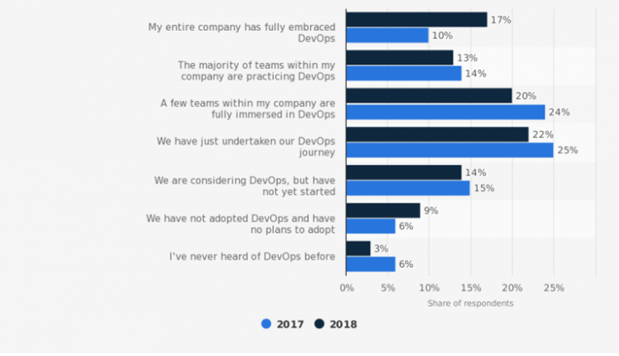 Acc to a recent survey, DevOps tools market was at $5.2 billion in 2018, is expected to grow to around $15 billion in 2023. Another similar study predicts, the Global DevOps market which was at $3.36 billion in 2017 is expected to reach whopping $9.40 billion by 2023. These are some of the recent surveys that shows DevOps will be a high impact, and critical role for the next many years so it's safe to say that it's the right time to explore DevOps. DevOps Offers a Career Path with promising future Growth.
DevOps is a soaring career in INDIA. It has been named among the top 10 technologies to learn in 2020 and in past years.
Reputed MNCs like Infosys, TCS, Accenture have DevOps teams for their clients.
Popular companies like CYIENT, NYKAA, HCL, NextGen have an ample amount of job openings for DevOps positions.
Startup companies like OYO, Zomato, Paytm have a big team of DevOps.
Opportunities are massive in the field of DevOps. All the domains whether it is healthcare, finance, customer services, entertainment, data science, information applications, to name a few, they all need DevOps.
Salary Packages with DevOps
Acc to a study conducted by PayScale, the average DevOps salary in India is around Rs 674,000 per year.

The companies require specific skill sets in the professionals that best suits their organization. Additionally, packages greatly depend on years of expertise. Higher the number of years of experience, higher the salary packages.
Let's see the variation in the salary package of a DevOps engineer based on experience.
The average entry-level DevOps salary is around ₹366,000 in India. While the packages for the experienced professionals can reach up to ₹2,000,000 and beyond.
There are many factors that affects the DevOps packages. Skillsets that you possess is one of the most important factors. The more important skills you acquire, more will be the package as the skills provide the ability to understand better. Second factor can be the number of years of experience. Thirdly, Companies you work with also affects the package. It's a fact, the bigger the brand name, higher will be the package offered. TCS offers around Rs. 6,27,000 pa as salary.
As we discussed earlier, skill sets drive the DevOps package. If you possess the important skills, you will surely get the best packages in this competitive world. Some of the skills that can help to get a fat pay cheque are
Development Operations: DevOps
Amazon Web Services: AWS
Linux
Jenkins and
Python
These skills will surely help you get ahead of the curve. These along with Kubernetes, Shell, Docker, Azure can be the turning point for the career.
Job Titles for DevOps
With the ever-evolving world of DevOps, new designations and responsibilities are emerging in the organizations. Most companies have the below listed job titles
DevOps Architect
Release manager
Security Engineer
Software Tester
Integration Specialist
Software Engineer
Automation Engineer
To get a DevOps job in a good company with good salary package, you need to have the proper skill set and the first step for that can be DevOps Training in Pune.
You can start your career in DevOps as a developer, sysadmin, QA, or elsewhere. DevOps career needs willingness to become a successful bridge among the teams throughout the organizations and the need to understand the big picture of the business. You need to learn new tools and technologies constantly that can be applied. This is a fairly young field, and it will keep on evolving with the software industry.
Conclusion
The future for DevOps is very bright as more and more companies are adopting DevOps culture. There are numerous roles and responsibilities emerging for the skilled and trained DevOps professional. Trends in the previous years have shown that DevOps will be the prime area of growth and one of the most wanted among the professionals. Most important thing to note is that the salary packages heavily depend on the skill sets you possess. If you are interested in becoming a DevOps professional, Check out our well-crafted course at https://www.ethans.co.in/course/devops-classes-in-pune/