What is a DevOps Engineer?
A DevOps engineer is an IT professional who works closely with both development and operations team with the wide-range knowledge of coding, system admin, infrastructure management, along with DevOps toolchains. DevOps engineers should also social skills to be able to interact with the otherwise siloed departments to create a more collaborative environment.
Development team focusses on the introduction of new features while the goal of operations team is to maintain the stability of the application. DevOps Engineers are all about the merging of the processes, by understanding the DevOps culture in addition to the development life cycles for the rapid growth of the organization.
So, the simplest answer to the question "Who is a DevOps Engineer?" is that DevOps Engineer is either a developer interested in network operations and deployment, or the sysadmin who has a zeal for coding.
DevOps Engineer Career paths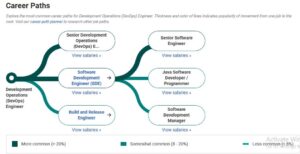 DevOps Engineering is a progressing job role to update the operations in a company. More and more companies are relying upon to devops engineers to ensure seamless and efficient delivery of their products. With lots of companies fervent to employ it, experts are predicting large number of opportunities for these engineers across various roles. There is a great surge in the job openings for devops engineers since 2013. If the reports are to be believed, the jump is nearly 225% in the job openings on Indeed alone!
There are many career paths that a devops engineer can opt for, depending on one's interest. Some paths are followed more commonly than others. DevOps Engineer can take the next step in the career to be software development engineer, senior development operations engineer or, build and release engineer. As DevOps is an advancing field, more and more exciting career options are opening with the time. The list is limitless.
Skills and Qualifications Required for DevOps Engineer

DevOps has become one of the highest paying jobs in IT sector in a short time span. DevOps engineers mostly start the career as engineers coming from many different fields. Bachelor's degree is mandatory for the position while the advanced degrees are optional.  With the work experience of few years and the expertise in the field, one can swiftly progress to the designation of devops engineer.
Here are the skills required to become a DevOps engineer:
Understanding of Linux: With companies preferring to host their applications on Linux, understanding of Linux operating system is an essential skill for a devops engineer.
Proficiency in Programming language: Programming language plays an important role in CI/CD (continuous integration/continuous delivery) process, automation of deployment and development process. The knowledge of programming language is a decisive skill for a devops engineer.
Familiarity with DevOps Tools and Technologies: You are expected to be thoroughly familiar with the tools required for each and every stage of devops practice. Tools like Docker, Git, Ansible, Chef, Puppet etc. are of great importance for a devops engineer.
Infrastructure as a code: There are various tools that can help a devops engineer in making the deployment process to be automated and easier.
Containerization: Knowledge of containerization is a must for devops engineer to enable effective deployment functioning. Kubernetes and Docker are the most prominent providers for the containerization.
CI/CD (Continuous Integration/Continuous Delivery) Pipelines: CI/CD is the essence of DevOps and hence, most important for a DevOps Engineer. Tools like Jenkins and GitLab is used for CI/CD.
Concept of Cloud Services: Most of the companies are using Cloud Services so it is trivial for devops engineer to understand the cloud services and providers like Google Cloud Platform (GCP), Microsoft Azure and Amazon Web Services (AWS).
Soft Skills: DevOps Engineer perform like a mediator between various teams in an organization for the smooth functioning and timely deliveries. You need to learn leadership skills, time management and effective communication to get an edge over the peers.
DevOps Engineer Duties and Responsibilities
DevOps Engineers are IT professional working with developers, quality affirmation experts and IT people to discharge the codes in effectively and continuously. Devops engineers are multi taskers who have the flexibility to come up with the solution for different situations.
Let's take a look at the duties and responsibilities of a devops engineer:
Planning of a Project: In project planning phase, you have to establish the concluding goal of the project. You have to take into consideration the changes that will take place due to continuous feedbacks and estimate the requirements in terms of time, manpower and material.
Development of a Product: You are required to translate the requirements for other members of the team. You have to develop, build as well as manage IT solutions.
Performance Management: DevOps engineer is required to analyse the technology being used by the team and evaluate the performance. You are required to recommend changes and initiatives for the project.
Maintenance: Maintenance is one of the prominent responsibilities of a devops engineer. You are expected to build the strategies required for maintenance. You have to work closely with other departments to maintain the hardware and software required for the completion of the project.
Deployment: DevOps engineer should be acquainted with the concept of continuous deployment and deployment pipelines. You should be able to deploy updates automatically using configuration management softwares.
DevOps Engineer Salary in India
DevOps is not just a buzzword anymore. More and more companies are hiring devops engineers and offering lucrative packages, making it one of the highest paying job in IT sector. Tech giants like Accenture, Barclays, Accenture, oracle, etc are always on a hiring spree for devops professionals. The demand for devops professionals is always high and hence with the updated skill set your career graph can take a giant leap.
Skill set acquired is the deciding factor of the salary for a devops job. With the correct set of skill set and experience, salary will be higher. If it has stirred your curiosity for the packages offered to the devops engineers then it is the right place!!
According to the survey conducted by PayScale, average salary of a devops engineer in India is Rs 6,98,561 per year.
To check updated details click here.
What are the Parameters that Affect DevOps Engineer Salary?
The salary of a devops engineer in India depends on the factors listed below:
1. Experience: With the experience, one can get better understanding of the devops culture and the ability to troubleshoot attracting higher salaries.
2. Skills: Correct and updated skill set is a sure shot way to get lucrative salaries.
3. Location: Location used to play a vital role in deciding the salary, which according to me is a trend that will soon be obsolete.
4. Employer: Bigger the company you work for has a direct impact on the salary you are going to fetch.
1. DevOps Engineer Salary: Effect of Experience
Experience helps the devops engineer to understand the concepts of devops thoroughly. With the years of practice comes the expertise and hence the higher the experience, greater the salary package.
Let's see the variation in the salary depending on the experience:
Entry level: DevOps Engineer Salary for entry level with less than one year of exp in India is around Rs 3,89,000.
Mid-level: DevOps Engineer Salary for mid-level with 1-4 years of exp in India is around Rs 594,103.
Experienced level: DevOps Engineer Salary for the experienced one with 5-9 years of exp in India is around Rs 1,179,000.
Late level: Salary for a devops engineer with an experience of 10-19 years is around Rs 1,756,271.
2. DevOps Engineer Salary: Effect of Skills

Right set of skills is a decisive factor for the DevOps Engineer salary. There is a huge demand for devops engineers who acquire the updated skill set. Let's try to understand which skills attract bigger salary packages.
As we can see in the survey report, skills like Bash, Windows PowerShell and Terraform draws highest salaries followed by other skills like Kubernetes, Apache and Python.
3. DevOps Engineer Salary: Effect of Location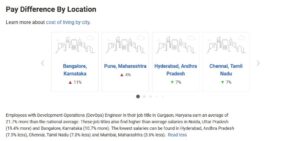 It is anticipated that the effect of location on salary will reduce in the future due to Covid pandemic, but currently location is also a main factor in determining the pay package of a devops engineer. Gurgaon, Haryana offers around 22% more earnings to the devops engineers when compared to other cities.
 4. DevOps Engineer Salary: Effect of Employer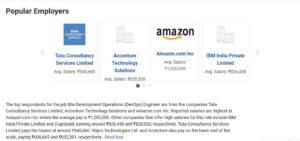 Bigger the name of the employer, higher will be the pay package. It is a well- known fact and true in most of the cases. The highest salaries offered to devops engineers are from Amazon.com Inc, followed by IBM and cognizant. Amazon.com pay a whopping package of Rs 1,000,000.
What are Popular Skills for DevOps Engineer?
Impressive skill set is a sure shot way to attract a lucrative package for a devops engineer. You need to be one step ahead from the peers with the updated skills.
As evident from the survey, skills that can help you attract a big fat paycheque are Development Operations, Amazon web Services and Automation Scripting. Aim for these skills.
Why You Should Become a DevOps Engineer?
Career path depends on many factors.
Here we have tried to list some career benefits of choosing devops as a career path.
Expand your knowledge: IT is an ever-evolving field where new trends are introduced in every few months. The devops course is a great way to stay relevant in this highly competitive industry.
Creativity: DevOps industry is still evolving with the main focus being better software development process. If you want your creative juices to flow, then devops is the perfect career option to implement your ideas and achieve the goals set by the organization.
Vast career opportunities: With the surge in demand for devops engineers, there are plenty of opportunities in the job market to choose from. You can have the luxury to choose based on your preferences.
Attractive Packages: Devops engineers are offered high pay packages in the recent market. More and more companies are switching to devops culture for better results. With the right skills and some years of experience, you can easily attain a mark in your career.
Summary
You can notice an exponential hike in the DevOps engineer's salary in India. If you want to work in the devops, then this is the time. With the increase in demand for devops engineers, there are very high chances that you will earn higher than your peers from other IT fields.
Devops career can pay you really well but the pay packages are determined by the skills you acquire. DevOps classes in Pune provides you in-depth knowledge of various major and minor DevOps tools including Git, Mavens, Chef, AWS, Jenkins, Docker, Kubernetes, Puppet & Terraform, etc. The course is designed to help you become a certified practitioner. Duration of the course is 70 hours. For more info visit: DevOps Training Classes in Pune or fill our enquiry form and our team of experts will contact you.